Do people consider you a guide or salesman online? One word can change it.
Another Monday Morning Website Tip by Marcus Rangel
Someone sees you just posted or emailed something online, what's their initial reaction? Another sales email, another sales post…. or, great info, great thoughts, great insights?

Salesman sell, annoy, bother, intrude, the list goes on. Guides help, they educate, they give advice, they tell stories of past experiences to give a reason to do something better.

Here's how you can change your approach with one simple word. Whenever you write your marketing, think how it can benefit someone else. This starts with adding the word "you" in your messages.
Your subject line, how does it benefit someone to read it? Your opening sentence on your website, insert the word you in there and see your message change. When you post online, are you sharing your experience to truly help someone or sell to someone? If you are helping, you'll start to be seen as a guide.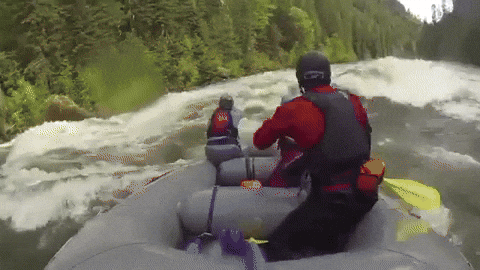 It's a small word but will transform how you do your marketing. See what I did there? I talked about you 🙂 You can bet I don't want to be seen as a salesman…ever. I'd rather be seen as that river rafting guide who's been down the river 1000s of times who can help people down the Royal Gorge who knows what obstacles and tips to give (but that not like Kevin Bacon river guy in the movie River Wild).
If you haven't read the book Building a Storybrand, I've read it 2x already and every time pull out something amazing from it. It's probably the single most important marketing book you can read!
P.S. So my friend Chad helps his wife out with their candle business on the regular… let's just say he wanted to let everyone know he helps out and I've been wanting to make fun videos like this for a long time. It may be my new monthly fun goal of doing something new.

About Marcus Rangel
I've been working with small businesses owners to craft not only beautiful custom websites, but clear, clever and concise messages to reach their prospects since 2005.
I officially hung up my "corporate cleats" to be an entrepreneur and small business owner in the summer of 2020. IMC, which started as a side hustle early in the mornings before the sun was even up in 2017, is what led me down this path as a business owner myself. I focus on helping other business owners continually stay in front of people & prospects with digital marketing, create websites that get leads with great engagement, and produce video content that are meant for the digital era we're in.
When I'm not creating, you can find me hanging out with my incredible family on our front lawn or on my OneWheel around the big city of Topeka, KS.
Does your website need help?
Shoot me an email:
marcus@innovativemediacreators.com
As we head into 2023, there isn't a better time to look at storybrand website examples for your business. Here's why I love Donald Miller's approach to designing incredible websites using the storybrand method. It puts the visitor of the website as the hero and uses words like you and your instead of I and we. It shows the business as the ultimate guide instead of the ultimate show off. It gives clarity. As he…
Read More
Looking for website tips to help your business?

Sign up for Monday Morning Website Tips - it's fresh, weekly ideas straight to your inbox.