Video marketing is essential right now to email marketing – 3 ways to do it right.
Another Monday Morning Website Tip by Marcus Rangel
Not seeing your clients or prospects in person can really hinder your business especially in a time like this. But there is good news! You can easily put your smiling face on video just as easy as Kramer brightened the room on every episode of Seinfeld (yes I've been watching this lately and loving every minute of it)! Here's 3 simple ways to do it right.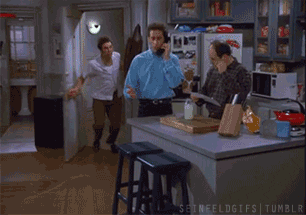 #1. Be genuine and don't sound like a robot.
You may have to practice and fail 100 times but in order to come across like your normal self I would recommend just having bullet points in your head of what you want to cover. If your read a teleprompter people will know because you will perfect everything you are going to say. If you plan it out in bullet points, think of it as a PowerPoint where if you do it right you have a big one liner on there and not 2 paragraphs of copy.
#2. Don't look like a rookie.
What do I mean by that? Well just because you have a video doesn't mean you shouldn't pay attention to what's behind you in the scene. Go to the best possible location in your house and stage it a little bit so it looks like you have stuff in order. And make sure people can see you so pay attention to the lighting (I picked up this light kit for around $125 bucks on amazon) and this mic that does a great job.
#3 Keep it short and simple.
Yes people are inside and on their phones a lot but there attention spans are still small. In every video I've ever studied the longer your video is the more your viewership goes down… a lot. "KISS" that video (keep it simple stupid) and it will help your engagement graph thrive.
Alright, you've made it this far now quit reading and start thinking of what your video should be in your email to your list!
I've been working with small businesses owners to craft not only beautiful custom websites, but clear, clever and concise messages to reach their prospects since 2005.
I officially hung up my "corporate cleats" to be an entrepreneur and small business owner in the summer of 2020. IMC, which started as a side hustle early in the mornings before the sun was even up in 2017, is what led me down this path as a business owner myself. I focus on helping other business owners continually stay in front of people & prospects with digital marketing, create websites that get leads with great engagement, and produce video content that are meant for the digital era we're in.
When I'm not creating, you can find me hanging out with my incredible family on our front lawn or on my OneWheel around the big city of Owasso, OK.
Does your website need help?
If you've taken the time to read your county's or state's guidelines for reopening this past week, did you read the entire document or scan it to find out exactly what you were looking for? I bet 95% of us scanned it, and I'll tell you why. We don't have time to read 10 pages of text, or at least we think we don't. People are looking for headlines to grab their attention. If we find a headline, then we are looking for bullets to define the details of that headline. This is why it's so important that we take these things into consideration, whether it's your website, your email campaigns, or any PDF we put out digitally. Did you know that most people leave a website within 10 seconds? And…
Read More