What should you name your email newsletter?
Another Monday Morning Website Tip by Marcus Rangel
Have you ever signed up for an email newsletter that has no name and a call to action of "sign up for our newsletter," I'm guessing you probably didn't. Is it because you had no idea what the magic newsletter was? The data for those signups of that email newsletter probably looked a lot like these sales George Costanza had for his Dad right?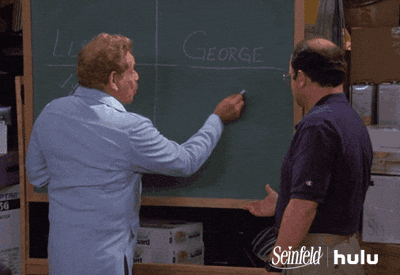 What if you named your newsletter something that was relevant to what you do or that's personal to your brand?
Here's some examples that do a good job and the reason why they capture someones attention.
This example tells the prospect exactly how often they will receive the email newsletter (weekly), what it's about (retirement), and how to do it (simply). It hits 3 key areas and is the first thing you see when you pull up Compass Retirement.
This example hits that pain point of missing out if you don't sign up for their emails. It also tells the prospect how often they'll get it (weekly) and that they'll miss out if they don't sign up. Simple, yet very effective.
I love this example because it shows this company as more than a catering company, but a company that is going to give tips, ideas, and specials when prospects sign up for their newsletter.
The key is to give a reason to sign up for your newsletter.
Even if you aren't sure what you're going to name your newsletter, giving someone a reason to sign up is key to them handing over their email address for you to market to. Take a look at East Bank On Mill Creek, not only is this one of the coolest boutique hotels in Kansas in my opinion, but look at what they did with theirs – this is great! Even if they don't email weekly – they are saying that when there are specials or deals you'll want to be on their list by saying simply "Sign up for East Bank Updates and Specials."
I've been working with small businesses owners to craft not only beautiful custom websites, but clear, clever and concise messages to reach their prospects since 2005.
I officially hung up my "corporate cleats" to be an entrepreneur and small business owner in the summer of 2020. IMC, which started as a side hustle early in the mornings before the sun was even up in 2017, is what led me down this path as a business owner myself. I focus on helping other business owners continually stay in front of people & prospects with digital marketing, create websites that get leads with great engagement, and produce video content that are meant for the digital era we're in.
When I'm not creating, you can find me hanging out with my incredible family on our front lawn or on my OneWheel around the big city of Owasso, OK.
Does your website need help?
Like any business, you have a list of customers and prospects, the biggest question about that email list is how often should you email them without being annoying? Or better worse, someone hitting the unsubscribe button and you feeling like they just said in Travis Kelce fashion, "know your role and shut your mouth!" I recently could tell that a national bank that we have a savings account with got a new email marketing plan because I am getting emails non-stop lately from them. To make it worse, they are pitching me on getting student loans with them (almost every other day) – which also means they don't have their audience fine tuned either if you know me and the last year I attended college…
Read More